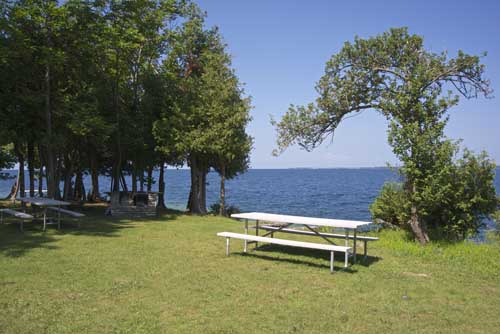 Owning a slice of paradise is nice and all - if you want to spend a pile of money and all your spare time maintaining it - but public lands are often nicer than some million-dollar vacation homes, and are often free. Maintenance-free, too!
We are staying near
Robert Wehle State Park
, which is a free day-park on Lake Ontario. Wehle was the son and grandson of the owners of the Genesee Brewing Company and when his Dad sold the place, Robert decided to spend his time raising pointer dogs and hunting on his 1067-acre tract. In
the decision matrix of inherited wealth
, he made the right choice. When he died, the land was left to the State, which has maintained it as a State Park.
You can rent out Mr. Wehle's house and grounds - for a considerable sum, I am sure, but far less than the cost of paying taxes on 1000+ acres of waterfront (I am sure the local county misses that money!). But the rest of the park is free to visit, to hike and bike. About a mile or so from the parking area, down a gravel road, is a nice picnic area, complete with grills, tables, a pavilion, and a bathroom. Since it can only be reached by foot or on bicycle, not many visit it.
We rode the yellow "snakefoot" trail all the way around, several years ago, returning with our bikes covered with mud and feeling exhausted but exhilarated. We returned a few days ago and now the trail has been improved - no more knee-deep swampy areas, and we were again exhausted and exhilarated, but not covered so much with mud. We stopped at the picnic area and had a picnic, and Mark suggested returning in a few days with hammocks, as there were many cedar trees near the water's edge. It turned out to be a good idea. This time, of course, we didn't do the yellow "Snakefoot" trail, but took the well-groomed gravel road.
A few days before, we had visited our old haunt on Cayuga lake and saw one of our old neighbors, who invited us down to his lake rights for a cold glass of wine. He had put in a new picnic pavilion and a cabana, as well as improved his dock and bought a brand-new party barge. It was all very nice but we didn't miss it a bit. You see, all that costs a lot of money, plus you have to maintain it or pay someone to maintain it. And all that, for just a few dozen feet of lakefront, right next to someone else's few dozen feet of lakefront. And you can rent a party barge for a lot less money than owning one.
When we bought our condos in Florida, Mark's Dad said it was a big mistake (he said the same thing about all our Real Estate investments, even though most of them made us fantastic amounts of money and even though he made his small fortune in Real Estate as well). His argument was that a vacation home
forced you to go to the same place every year
, much as a timeshare does. But unlike a timeshare, you can sell a vacation home, after a few years (as we did) sometimes even for a profit. Real Estate is not forever - the average home changes hands every five to ten years or so, so "owning" something is not some sort of permanent thing. And even if paid-for,
any property costs a lot of money just to keep
.
On the other hand, at Robert Wehle State Park, we lazily spent the afternoon in our hammocks, on over 17,000 feet of pristine shoreline, sipping Mumm Napa pink Champaign and basically living like millionaires, for a lot less cost. When we were done, we packed up everything and rode back to the truck, leaving our cares behind. We didn't pay for a damn thing - and certainly not New York State's onerous property taxes (imagine what they would be on such a property!).
Don't get me wrong, my friend's lakefront cabana was nice - as was our old one (which the new owner wisely rents out on AirBnB and VRBO to pay for the onerous property taxes), but what we had the other day was nicer - including the ability to just walk away when done.
Public space is a great value
- often free - and a lot less hassle. Plus, you can visit a different public space nearly every day, particularly when RVing. When we travel, we often look for city or county parks to visit to have lunch. We start looking around 11:00 AM, checking the GPS for nearby parks, or looking on Google, or at a paper map. Often we find these places deserted, other than maybe one or two other intrepid explorers. Beautiful pavilions on the water, complete with barbecue grills, and spotless restrooms to boot. Often, a lonely park ranger will stop by to chat, as there are so few visitors to these places - and that's a shame.
The urge to "own it all" often means you end up with less - or even nothing. Because when you own things, they can be a trap. And quite frankly, you'll never own hundreds of acres, much less thousands, of waterfront property in your lifetime, nor would you want to.
But if you want to, you can visit such places, often for free or for very little money ($5 or so) and pretend you are as rich as a Rockefeller, if only for a few hours or maybe a few days.