4-speed Joe!
WILMINGTON, DELAWARE - Officials of the Biden campaign inadvertently let slip the former Vice President's choice to succeed him in that job. After careful consideration of all the potential candidates, Biden has decided, insiders say, to select his beloved 1967 Corvette Stingray as his running mate.
Biden has owned the car since new, when it was given to him by his Father, a Chevrolet Dealer at the time, as a wedding gift. The car is equipped with a small-block 327 Chevy V-8 producing 300 horsepower, mated to close-ratio four-speed manual transmission.
The selection took many by surprise, as Biden was known for his fondness of riding Amtrak. However, as the former VP noted, once in a while, one has a need for speed. Selecting the jade-green convertible fulfills Biden's promise to pick a woman of color. "And she's a real lady," Biden remarked.
"Trump can't even drive a stick, much less drive!" Biden shouted.
"She's been with me from day one." Biden noted, "And we've always worked well together over the years. We'll continue to work well together in the White House!"
While some other potential VP candidates were disappointed in Biden's choice, others were more philosophical. "The VP job is pretty meaningless, and no one knows that better than Joe!" Susan Rice was reported saying, "Besides, I'd rather be Secretary of State."
Kamala Harris opined that "While it may seem like an unconventional choice - as the VP should be ready to step into the President's shoes at any time - let's face it, a '67 Stingray would make a better President than what we have now. Besides, I'm needed in the Senate."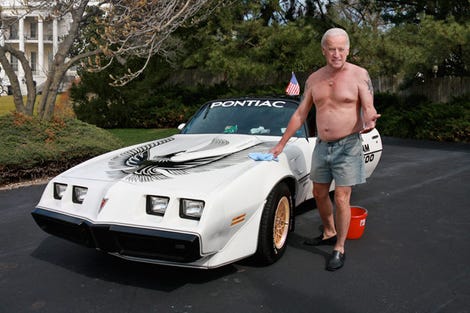 No word yet from Biden's white 1981 Trans Am, which did not make it to the final round of the selection process.